Wow! That is the best way to describe today, which is good because yesterday after the heels came off things went down hill a bit but we will save that for another post!
I want to tell you first how I am Guest Blogging today on the SPD Blogger Network
.
(The post will appear on the site at 3pm EST. How exciting… it is like waiting for the American Idol decision show to start.. except I'm already home so you can't vote me off!. LOL)
My post is called "Autism is Like a Bubble" and is an updated version (and better version ) then one I did here a few weeks back. I am very very excited about appearing over at the SPD so make sure to go over there and take a look and show me some love by leaving a comment.
Okay on another note… a really exciting note I might add…Yesterday's Post Why I Wore High Heels to Clean My Toilet was chosen as the Link of the Week on The Blog Entourage! YEAH ME!
That made me so excited that I decided to join The Blog Entourage's Crazed Fan Weekend Blog Hop.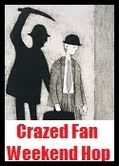 I think I actually just liked the idea of having crazed fans… wow didn't take long for the fame to go to my head now did it! Just kidding my peeps. (See I threw peeps in because now that I am famous I can talk like that… you know because I don't have time to say the whole word. I crack myself up!)
So anyone who is hopping on over here from the Blog Hop… welcome. Take a look around because my post usually are better than this one. Go ahead FANS leave comments and tell them that is so… PLEASE!